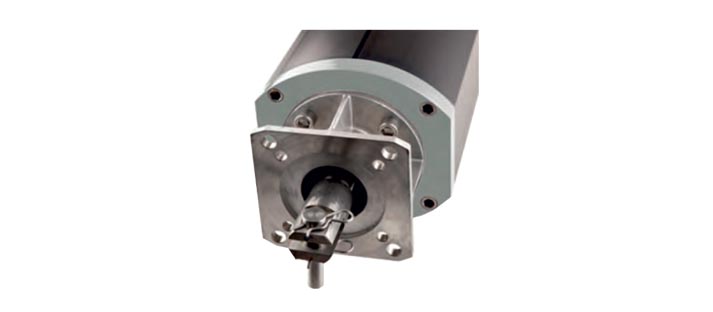 Pneumatic Actuators
Type L
Actuator, Type L, for linear movement and modulating, Double Acting (DA) or Spring Return (SR). Body of Anodized Aluminum in black colour as standard, other finishes avialable.
Integrated T-groove for touchless position indication with magnetic piston..
This actuator is generally recommended to Gate valves.
The actuators comply fully with all the relevant industry standards for interfaces and connections such as ISO 15552, VDI/VDE 3845 and NAMUR.
Actuators type L
movement 90-1030 mm
Double Acting (DA)
| | | | | | |
| --- | --- | --- | --- | --- | --- |
| Type | Size | Stroke (mm) | Namur Interface | lbs | Part No |
| TDA | 100 | 3,5 | 1/4″ | 9,0 | TL100A0U-90 |
| TDA | 100 | 4,5 | 1/4″ | 9,9 | TL100A0U-115 |
| TDA | 100 | 5,5 | 1/4″ | 10,1 | TL100A0U-140 |
| TDA | 100 | 6,5 | 1/4″ | 10,8 | TL100A0U-165 |
| | | | | | |
| TDA | 125 | 4,5 | 1/4″ | 16,8 | TL125A0U-115 |
| TDA | 125 | 6,5 | 1/4″ | 17,6 | TL125A0U-165 |
| | | | | | |
| TDA | 160 | 4,5 | 1/4″ | 22,0 | TL160A0U-115 |
| TDA | 160 | 5,5 | 1/4″ | 23,1 | TL160A0U-140 |
| TDA | 160 | 6,5 | 1/4″ | 24,2 | TL160A0U-165 |
| TDA | 160 | 8,4 | 1/4″ | 28,7 | TL160A0U-215 |
| TDA | 160 | 10,6 | 1/4″ | 30,9 | TL160A0U-270 |
| TDA | 160 | 12,5 | 1/4″ | 33,1 | TL160A0U-320 |
| | | | | | |
| TDA | 200 | 8,4 | 1/2″ or 1/4″ | 66,1 | TL200A0U-215 |
| TDA | 200 | 10,6 | 1/2″ or 1/4″ | 71,6 | TL200A0U-270 |
| TDA | 200 | 12,5 | 1/2″ or 1/4″ | 76,1 | TL200A0U-320 |
| TDA | 200 | 13,7 | 1/2″ or 1/4″ | 79,4 | TL200A0U-350 |
| TDA | 200 | 15,7 | 1/2″ or 1/4″ | 101,4 | TL200A0U-400 |
| TDA | 200 | 17,6 | 1/2″ or 1/4″ | 110,2 | TL200A0U-450 |
| TDA | 200 | 21,5 | 1/2″ or 1/4″ | 120,2 | TL200A0U-550 |
| | | | | | |
| TDA | 250 | 13,7 | 1/2″ or 1/4″ | 105,8 | TL250A0U-350 |
| TDA | 250 | 15,7 | 1/2″ or 1/4″ | 127,9 | TL250A0U-400 |
| TDA | 250 | 17,6 | 1/2″ or 1/4″ | 140,0 | TL250A0U-450 |
| TDA | 250 | 19,6 | 1/2″ or 1/4″ | 156,5 | TL250A0U-550 |
| TDA | 250 | 22,5 | 1/2″ or 1/4″ | 165,3 | TL250A0U-575 |
| TDA | 250 | 24,7 | 1/2″ or 1/4″ | 173,1 | TL250A0U-630 |
| TDA | 250 | 31,3 | 1/2″ or 1/4″ | 198,4 | TL250A0U-800 |
| | | | | | |
| TDA | 320 | 19,6 | 1/2″ | 147,7 | TL320A0U-550 |
| TDA | 320 | 22,5 | 1/2″ | 155,4 | TL320A0U-575 |
| TDA | 320 | 27,4 | 1/2″ | 167,5 | TL320A0U-700 |
| TDA | 320 | 28,0 | 1/2″ | 172,0 | TL320A0U-715 |
| TDA | 320 | 31,3 | 1/2″ | 185,2 | TL320A0U-800 |
| TDA | 320 | 35,8 | 1/2″ | 196,2 | TL320A0U-915 |
| TDA | 320 | 40,3 | 1/2″ | 209,4 | TL320A0U-1030 |
*with magnetic piston
Actuators type L
movement 90-320 mm
Spring Return (SR)
| | | | | | |
| --- | --- | --- | --- | --- | --- |
| Type | Size | Stroke (mm) | Namur Interface | lbs | Part No |
| TSR | 125 | 3,5 | 1/4″ | 24,0 | TL125A1UFC-90 |
| TSR | 125 | 3,5 | 1/4″ | 26,2 | TL125A1UFO-90 |
| | | | | | |
| TSR | 160 | 4,5 | 1/4″ | 31,9 | TL160A1UFC-115 |
| TSR | 160 | 4,5 | 1/4″ | 34,2 | TL160A1UFO-115 |
| TSR | 160 | 5,5 | 1/4″ | 44,8 | TL160A1UFC-140 |
| TSR | 160 | 5,5 | 1/4″ | 48,1 | TL160A1UFO-140 |
| | | | | | |
| TSR | 200 | 6,5 | 1/4″ | 104,5 | TL200A1UFC-165 |
| TSR | 200 | 6,5 | 1/4″ | 108,9 | TL200A1UFO-165 |
| TSR | 200 | 8,4 | 1/4″ | 139,1 | TL200A1UFC-215 |
| TSR | 200 | 8,4 | 1/4″ | 145,1 | TL200A1UFO-215 |
| | | | | | |
| TSR | 250 | 10,6 | 1/2″ or 1/4″ | 166,0 | TL250A1UFC-270 |
| TSR | 250 | 10,6 | 1/2″ or 1/4″ | 171,5 | TL250A1UFO-270 |
| TSR | 250 | 12,5 | 1/2″ or 1/4″ | 241,2 | TL250A1UFC-320 |
| TSR | 250 | 12,5 | 1/2″ or 1/4″ | 247,8 | TL250A1UFO-320 |
*Fail Safe Closed
**Fail Safe Open