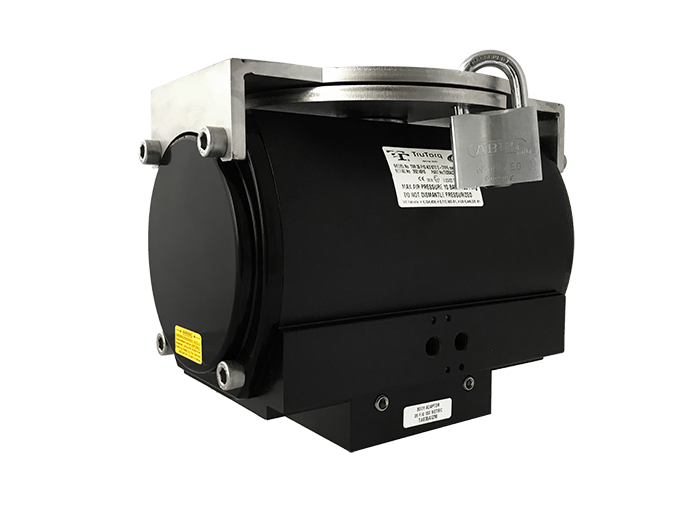 TruLock S-2
Actuator locking device
TruLock S-2 is an updated version for control of hazardous energy. TruLock S-2 device allows for the ability to simply "Lock-out – Padlock" valve and actuators from Flow systems.
Function: Enables locking of the actuator in closed and open position.
WMTT-exclusive: The TruLock series-2 is designed to only fit original TT-Actuators C, E or S-type.
Standards:VDI/VDE3845, Namur
Padlock: Standard type, not included.
Available in Stainless steel or Zink plated
TruLock System
??
| | | | | |
| --- | --- | --- | --- | --- |
| Type | | Actuator size | Material | Part.nr |
| TLS8 | | TT8 | Stainl. steel AISI304 | TLS8-SS |
| TLS12 | | TT12 | Stainl. steel AISI304 | TLS12-SS |
| TLS20 | | TT20 | Stainl. steel AISI304 | TLS20-SS |
| TLS35 | | TT35 | Stainl. steel AISI304 | TLS35-SS |
| TLS55 | | TT55 | Stainl. steel AISI304 | TLS55-SS |
| | | | | |
| --- | --- | --- | --- | --- |
| Type | | Actuator size | Material | Part.nr |
| TLS8 | | TT8 | Zinc-plated steel | TLS8-ZN |
| TLS12 | | TT12 | Zinc-plated steel | TLS12-ZN |
| TLS20 | | TT20 | Zinc-plated steel | TLS20-ZN |
| TLS35 | | TT35 | Zinc-plated steel | TLS35-ZN |
| TLS55 | | TT55 | Zinc-plated steel | TLS55-ZN |